WATER & SANITATION
ENERGY
Wat.pro: public works management software package
Digital management of operational works
The Wat.pro public works management software is a solution specifically designed to assist you in the planning, costing and execution of the works.
Its features enable management of subcontractors and provide a platform for information sharing.
Thanks to a dedicated collaborative space for each project, the operators and subcontractors share progress data and the documents relating to each milestone.
Wat.pro thus guarantees efficient management of:
network and branch renovation programmes,

programming and execution of day-to-day works.
Wat.pro provides technical and financial monitoring of the various projects for effective management of operations: summary tables, progress, mandatory steps and checkpoints, alerts, indicators, notifications, etc.
Choose a high-performance digital solution for collaborative project management!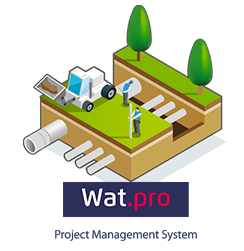 Manage your renovation works with ease
On the basis of your renovation programmes, Wat.pro enables management of all project stages:
Management of progress and compliance of the process:

highway authorisations, administrative procedures, asbestos survey, etc.

Preparation for works:

Reservation of warehouse parts, preliminary costing
Wat.pro provides holistic and effective monitoring of your works: administrative monitoring, preparation for works, works communication, technical monitoring of operations, compaction checks, acceptance of structures, financial costing.
The data is automatically uploaded to Wat.gis (progress) and Wat.erp (connections, networks, operations).
His final step provides you with easy access to the summary of operations:
Technical dashboard
Consolidated financial overview
Project completion
Real-time collaboration with your partners
For each stage, the subcontractors have a collaboration area enabling them to:
Share their documents (operation reports, surveys, etc.)
Plan their operations
Update the progress of their work
Communicate with the operator in real time
Thanks to the Wat.pro public works management software, you can easily manage your day-to-day operations, such as work resulting from quotations to customers (new connections, movement of branches, etc.), maintenance work on the network (leaks, etc.), and renovation of network equipment (valves, etc.).
Communication between contractors is facilitated by an integrated email tool.
Focus on management fundamentals by simplifying administrative procedures and monitoring of subcontractors!