WATER & SANITATION
ENERGY
Wat.gis: network management software package
Digital expertise to optimise the technical management and operation of public networks
The Wat.gis network solution is an innovative GIS (Geographic Information System) for managing business assets and functions relating to network operation and maintenance. Wat.gis simplifies your processes, notably by providing a DT/DICT (Notification of Proposed Works/Notification of Intention to Commence Works) module for automated data processing.
The result of a perfect understanding of the management of public networks, Wat.gis covers all your mapping requirements:
Sanitation networks (wastewater and rainwater).

Low and medium voltage and public lighting electrical networks.

Technical management and operation of networks.
The Wat.gis GIS network solution, a tailored solution for each type of public network.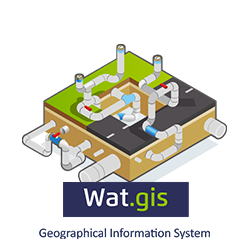 A high-performance geographic information system (GIS) for public network management
A true Water & Sanitation business GIS designed for and by an operator
Wat.gis, is a high added value business GIS, initially designed for and by an operator (Eaux de Marseille group), which was then deployed in numerous publicly controlled companies in France (Eau de Paris for example) and internationally.
Wat.gis is differentiated by extensive functions for water and sanitation, such as advanced topology management and sophisticated water stoppage management with calculation of branches isolated and consideration of interaction with other stoppages in progress.
Wat.gis is a web-based system for operating personnel.
A topological engine that ensures the integrity of digitised networks
Contrary to widespread practice, we decided not to use a topological engine from a generalist GIS, in order to truly address the business requirements specific to water and sanitation networks.
We have designed and developed our own engine integrated into Wat.gis. This enables us to ensure the integrity of the digitised networks and that they are consistent with the realities on the ground.
Complete management of your assets' life cycle
Wat.gis enables management of the active networks within your territory, but also recording of development of the assets. The software enables management of the varying status of the assets throughout life cycles, based on the following statuses: installed, in service, abandoned, uninstalled, etc.
There are numerous benefits. For example, it is possible, to view the state of the network at the date that you want and thus to produce the often-requested statistics relating to its development: km of pipes laid between 2 dates, km of pipes renovated, etc.
DICT (Notification of Intention to Commence Works) management automated and integrated into Wat.gis
Wat.gis enables automatic response to DICTs (Notifications of Intention to Commence Works), adapting itself to your various input streams. Reply templates are fully customisable and incorporate the CERFA regulated administrative form, a bespoke letter, and drawings.
This module thus helps to increase your department's productivity and enables your personnel to devote more time to more important value-added tasks.
Wat.gis s available in a mobile version for offline field workstations without data update restrictions.
In particular, the planner can assign real-time emergency responses to operators in the field.