NEW FOR 2017!
Since 1 January, Wat.erp has interfaced with the Chorus Pro portal to enable you to go paperless in respect of your invoices and accounting documents.
WATER & SANITATION
ENERGY
Wat.erp : An innovative and full range customer management solution
Improve

your customer management by providing

quality services

to users
Wat.erp is a latest generation digital solution enabling management of the entire customer management chain for water and energy distributors and sanitation operators and waste.
A true «business solution», Wat.erp covers an extensive comprehensive range of functions :
Prospects and customer relationship management,

Data readings (radio & remote meter reading),

 Technical management (estimates, works, operations, …),
Wat.erp ensures the integrity, traceability and security of your data in accordance with the Sarbanes-Oxley standard and GDPR (General Data Protection Regulation).
Supporting you in the optimisation of the service delivered to subscribers and users, Wat.erp is a key driver for your commercial development. Our solution enables you to implement new high value added services at your own pace like the comparative consumption report, SMS flash reading, chatbot.
Wat.erp is constantly enhanced in terms of both functional and technical aspects through our investment in R&D, our regulatory watch and user club contributions in order to address new requirements such as, for example : the incentive fee for household waste collection (RIEOM).
Wat.erp can be tailored to your organisation and your business processes.
Its carefully crafted ergonomics and its advanced features simplify and optimise your users' work on a daily basis.
Wat.erp is constantly enhanced in terms of both functional and technical aspects through our investment in R&D, our regulatory watch and user club contributions.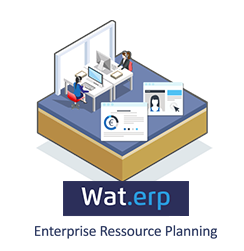 360° management of customer relations for improved performance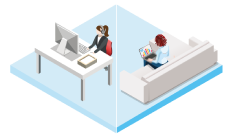 Modern efficient customer and relationship management
Wat.erp  provides your customer service personnel with a productive solution that can be quickly mastered. It enables you to record and monitor all of your commercial interactions with customers, prospects, subscribers, owners and users.
Your customers enjoy quality services in tune with users' expectations :
Logging of all incoming and outgoing interactions and requests : mail, email, sms, visit, telephone, online branch, mobile apps, …
Management of a customisable library of boilerplate replies (mail, email, sms).
Establishment and monitoring of consumer and service contracts (water, public and private sanitation, low- and medium-voltage electricity).
Online agency providing 90% of paperless processes, giving your customers more autonomy : application for service, termination, appointments, card payment of bills, input of meter readings, management of direct debits, monthly payment, …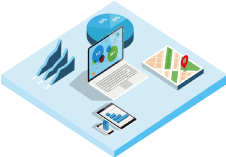 An automated back-office using a proven, powerful invoicing engine
 Wat.erp enables end-to-end optimisation of the commercial cycle :
Physical meter reading – Radio reading (walk-by, drive-by) – Fixed remote reading.
Automatic analysis of consumption and identification of anomalies to be reviewed.
Management of complex tariffs (block tariffs, proportional, exemptions, …).
Invoicing based on your frequency (ad hoc or per period), on reading or estimated, scheduled or in real time (initial invoice, termination, correction, …).
Desktop publishing, digitisation and archiving.
Collection (direct debit, monthly payment, interbank payment order, card payment, cash, …).
Reminders – Disputes.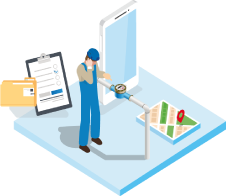 An intuitive scheduling of work interventions and optimised technical management
In addition to centralised planning of works and a multi-process mobility solution, Wat.erp provides all the functions necessary for optimised technical management :
Management and planning of operations in respect of subscribers, customers or prospects (Smart

Planning

).
Execution of all types of field operations on our mobility solution : Smart

Mobility

.
Preparation of estimates and invoicing of works (management of price lists and a database of items, bulk revision of prices, …).
Management of metering equipment (warehouse management, transfer traceability, bulk incorporation, …).
Compliance management of water and public sanitation systems.
Monitoring and invoicing in respect of SPANC.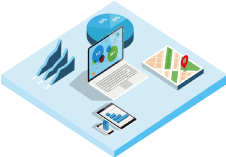 Performance management
 Wat.erp gives you access to management and performance indicators enabling you to improve the governance of your business :
Integrated dashboards (progress of meter reading, invoicing, collection ratio, …).
Integrated reporting (sales log, cash receipts, customer trial balance, transfer statement, …).
Advanced Business Intelligence features tailored to each of your businesses (Business Object Universe).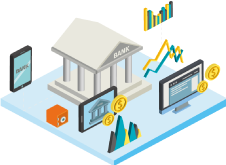 An open and interoperable product
 Wat.erp as standard, incorporates connectors to :
General and analytical accounting solutions (Sage, SAP, Oracle Applications, Civil, Sedit Marianne, …).
The public exchequer (PES V2 standard).
Private banks and the Banque de France (CFONB, SEPA, Eficash, …).
Third-party payment networks (online payment, collection companies, payment terminals, ..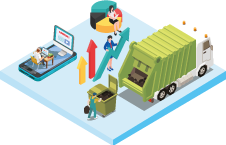 Other advanced functions
Workflow function.
Management of a geographic database.
Management of users and their permissions.
Full autonomy in respect of system administration.
The ability to automatically import data (customers, contracts, consumption, meters, invoices, payments received, works, …).
Management of the incentive fee for household waste collection (RIEOM).
Video tutorials to learn about the main functionalities.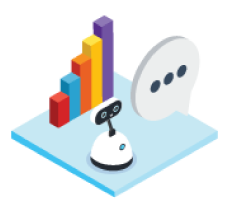 Wat.erp "PLUS SERVICES"
Somei provides advanced digital services to offer to your customers :
Chatbot : A 'Water' chatbot answers the subscribers' key questions via the online agency without overloading the operatives.

My ECO Conso
Do your customers want to better understand their consumption and save money ?
With MY ECO CONSO, find out how to encourage good eco-citizen practices in everyday life.
SOMEI offers My Eco Conso services that change the relationship between the water operator and the subscribers. The latter become active players with regard to their consumption and customers for new services and advice. For their
part, the water operators become advisers.

Personalized consumption report and compared to similar households,
SMS Flash Reading : sending of SMS for index reading from a photo of the meter.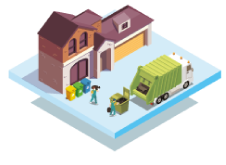 Incentive fee for household waste collection (RIEOM)
The product of joint software engineering work with SMEs, large companies and academics, Somei is developing  Wat.erp in order to address the new management challenges of the incentive fee for household waste collection (RIEOM).