NEW FOR 2017!
Since 1 January, Wat.erp has interfaced with the Chorus Pro portal to enable you to go paperless in respect of your invoices and accounting documents.
Water & Sanitation
ENERGY
Wat.erp: customer management software package
Improve your customer management by providing quality services to water, sanitation and energy users
Wat.erp is a latest generation digital solution enabling management of the entire customer management chain for water and energy distributors and sanitation operators.
A true business ERP tool, Wat.erp covers an extensive, comprehensive range of functions:
Subscriber and user relationship management

Usage readings (radio & remote meter reading)

Invoicing – collection – reminders – disputes

Auxiliary accounts receivable (Sage, Civil, etc. interfaces)

Technical management (estimates, works, operations, meter stock, SPANC [Department overseeing private sanitation installations], compliance, etc.)

Mobility (Meter reading and all types of operations)

Online branch (Digitisation of subscriber relationships)

Integrated reporting and activity management
Wat.erp ensures the integrity, traceability and security of your data (in accordance with the Sarbanes-Oxley standard). Optimising the service delivered to consumers and users, Wat.erp is a key driver for your commercial development. Our customer management software package enables you to implement new high value added services at your own pace.
Wat.erp can be tailored to your organisation and your business processes.
Its carefully crafted ergonomics and its advanced features simplify and optimise your users' work on a daily basis.
Wat.erp is constantly enhanced in terms of both functional and technical aspects through our investment in R&D, our regulatory watch and user club contributions.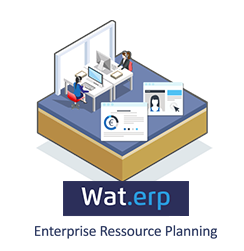 360° management of customer relations for improved performance
Optimised customer relationship management and reduced management costs with digitised services
Wat.erp provides cutting-edge, highly productive Front Office functions that enable simultaneous improvement of the service quality delivered to consumers and users, optimisation of operation and reduction of administrative costs:
360° view of the customer and all his files (subscriptions, quotations, contracts, etc.) to provide
the account manager with an overview of the customer and simplify his work as much as possible
Manage all customer contacts and discussions in order to personalise the relationship
Paperless processes through the Online Branch (account opening, subscription to direct debit with automated management of the SEPA mandate, subscription to monthly payment, payment by bank card, automated meter reads, account closure, etc.) enabling enhanced user experience and reduced calls upon customer service personnel
Paperless invoices, enabling savings in terms of printing and postage costs
Increased operational efficiency in planning and managing field operations
For water and energy distributors and sanitation operators, one of the major factors in terms of productivity savings relates to the optimisation of field operations and their execution by personnel who become increasingly multi-skilled.
This is why we have provided Wat.erp with :
A sophisticated operations planning tool, using mapping functions to optimise routeing of field personnel
A modern mobility application, Smart

Mobility

, enabling management of all types of operation and working in online/offline mode and on all hardware (tablet, smartphone)
A highly automated, managed and controlled back-office
As a specialist in the water, sanitation and energy sectors, we have designed Wat.erp's Back-office functions to satisfy the most demanding requirements in terms of optimisation, reliability, and automation.
Throughout the "meter reading – invoicing – collection – reminder – accounts" chain, Wat.erp's principle is to automate everything possible and to limit the work of personnel as much as possible so that they can devote themselves to higher added value tasks.
Governance optimised by true management of the business
In order to satisfy increasingly rigorous requirements in terms of governance, Wat.erp provides real-time interactive dashboards enabling monitoring of the progress and performance of key business processes.
In addition to these dashboards incorporated directly into the software, Wat.erp includes a reporting module consisting of a library of predefined standard reports. They satisfy traditional operational monitoring and reporting requirements.
They are themselves complemented by BO universes enabling you to create your own reports where necessary.
An open and interoperable product
As standard, Wat.erp incorporates connectors to:
General and analytical accounting solutions
(Sage, SAP, Oracle Applications, Civil, Sedit Marianne, etc.)
The Treasury (PES V2 standard)
Private banks and the Banque de France (CFONB, SEPA, Eficash, etc.)
Third-party payment networks
(online payment, collection companies, payment terminals, etc.)
Do you have a question?
Do you want more information about our solutions?