EAU & ASSAINISSEMENT
ÉNERGIE
SmartMobility: mobile works management for enhanced performance
Optimise the management of your network operations
The "mobility" application created by Somei aims to manage all types of field operations (meter reading round, operations, etc.). Conforming to current conventions, our application adapts to all hardware types and all screen sizes.
Our mobile works management tool supports you during increasingly optimised rounds, with increasingly multi-skilled field operatives, with the aim of improving service quality, responsiveness and productivity.
This is why we have opted for a single solution capable of supporting all types of mobile management operations in respect of works on water, sanitation and energy networks:
Work on water, sanitation and energy networks

Maintenance operations (electromechanical equipment),

Radio network operations (remote meter reading)
Capable de synchroniser les informations de façon automatique sans jamais perturber les actions de l'utilisateur, cette application de gestion mobile des travaux intuitive permet de simplifier le travail au quotidien.
SmartMobility: how does it work?
Each type of operation entails specific actions in the mobility tool: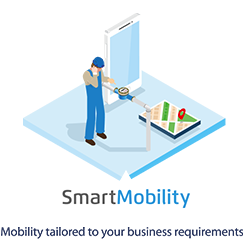 An application tailored to your business requirements
… simplifies and streamlines your work
The sequence of screens, with forms ideally tailored to the process being undertaken, makes it possible to achieve maximum simplification and streamlining of the field operative's input.
… manages your work processes
Managed processes are, for example, installation/removal of meters (customer process), execution of a water stoppage (network GIS process), network leak repair (network GIS process)
… adapts to your business requirements
The field operative has to be equipped with hardware (tablet, smartphone, etc.) in line with requirements relating to the nature of his activity; our solution has been designed to operate on all types of hardware, touchscreen or not.
Its responsive design enables it to adapt automatically to the hardware format.
The application is also supported by major OSs such as Windows and Android.
Data synchronisation (upload and download) is performed automatically in real time as soon as the device detects network coverage (WiFi, 4G, etc.).