WASTE
Waste management software
Sustainable waste management is an essential priority for companies and local authorities. All waste must be viewed as a reduceable source of pollution, as well as a potential resource to exploit.
The stakes are enormous, in terms of future scarcity of resources for raw materials and energy, and the environmental and health impact of waste management.
Somei creates software
for waste management operators

de gestion des déchets
Somei designs tailored information systems to improve the services provided by municipalities and operators/managers. A collaborative effort born of IT engineering with SMEs, major companies and academics, Somei develops its software suite Wat.erp to meet the new challenges of managing incentive charging schemes for household waste disposal (RIEOM).
Optimise quality of services for users and improve operators' performance
Publishing of business software suites
Somei offers software packages that are flexible and configurable
to each customer's requirements. Our information systems are
scalable and constantly enhanced within the framework of our
product plans and innovation program.
Project management and support
Somei the consultants deploys its applications in your environment using a proven methodology tailored to your situation. Our approach addresses all the key factors for the success of your project : Consideration of your challenges, Management through objectives and timeframes, Functional/business and IT support,
Change management, Training, Data migration, On-site start-up.
Outsourcing or SaaS options
Our solutions can be implemented within your technical
infrastructure ou support in our sovereign cloud based in France.
In our Data Center, they are administered, operated and supervised
by our technical team.
Discover our software and optimise your services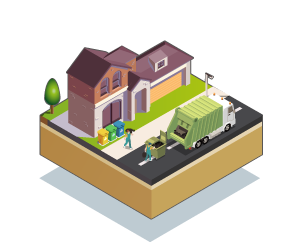 Solution for managing incentive charging schemes for household waste disposal (RIEOM) for citizens.
Wat.erp is software tailored to the waste industry that you can use to manage :
Aspects pertaining to the contract with the user.

Your interactions with the user (letters, email, sms, etc.) via a dedicated Online Agency. This provides you with complete traceability of all exchanges.

Managing your pool of containers.

Writing letters, preparing invoices (automated link with Chorus Pro portal included), contracts, collections (receipt of all payment methods), and automated payment reminders for all types of invoices.

Complete traceability for all types of service operations (installation/removal of container, cover replacement, lock installation, etc.).

Centralised planning and mapping of service operations.

Operations in the field via a dedicated smartphone application, in connected mode or not (automatic invoicing or not of services when the operation is finalised).

Automatic input of all activity on a customer account to a general accounting system, and public or private analytics.

Industry specific reporting ensured natively by Wat. and/or Business Objects (BO).erp and/or Business Objects (BO).
Waste management is a module fully integrated with other Wat.erp modules. This means water, sanitation, energy and waste users can all be managed in a single database (RIEOM).